Celebrating LGBTQ+ Pride Month this June, Dark Horse Comics staff present an updated reading guide highlighting a selection of comics that explore LGBTQ+ stories, themes, and characters.
Additional titles to look for, recently published or coming soon, include:
Cream – Jonny Christmas, Dante Luiz, Ryan Ferrier – available now
Liebestrasse – Greg Lockard, Tim Fish, Lucas Gattoni, Hector Barros – arriving June-July 2022
ElfQuest: Stargazer's Hunt Volumes 1 and 2 – Wendy Pini, Richard Pini, Sonny Strait, Nate Piekos – Volume 1 out now, Volume 2 out June-July 2022
Tales from Harrow County Volume 2: Fair Folk – Cullen Bunn, Tyler Crook, Emily Schnall – available now
Invisible Kingdom Library Edition – G. Willow Wilson, Christian Ward – arriving September 2022 (paperback volumes out now)
---
Lady Baltimore and Tales from the Outerverse

Readers met Sofia in Mike Mignola, Christopher Golden, and Peter Bergting's Baltimore series, but she's come to the forefront of the Outerverse in her own title, Lady Baltimore. Between battling dark witches and Nazis, we see Sofia's relationship with magician Imogen, who also has her own one-shot, Imogen of the Wyrding Waycollected in Tales From the Outerverse.

Portraying their romance in an authentic way was very important to the whole creative team, and we are thrilled to be planning more stories for these characters. The series centers on the fight against both human and supernatural evil, but at their heart the stories highlight the people in our characters' lives who make it all worth fighting for, no matter who they are or what their relationships look like. –Katii O'Brien, Editor

Lady Baltimore by Mike Mignola, Christopher Golden, Bridgit Connell, Michelle Madsen, with cover art by Abigail Larson, is now available in hardcover.
Tales from the Outerversecollecting the comic issues Cojacaru the Skinner #1-2, The Golem Walks Among Us! #1-2, and the Imogen of the Weirding Way one-shot, by Mike Mignola, Christopher Golden, Peter Bergting, Michelle Madsen, and Clem Robins, is also now available in hardcover.
---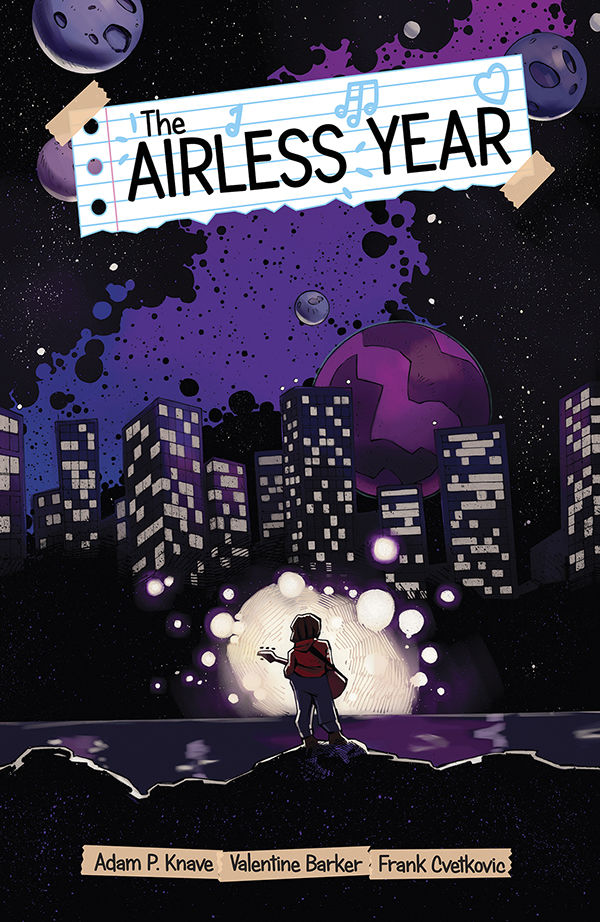 The Airless Year

Kacee couldn't feel more lost if she tried. As a queer Black girl in middle school, she's dealing not only with first loves and complicated friendships, but her parents' unaddressed issues as well.
When the stress in her life results in a failed class in summer school, Kacee finds that the situation might not be as bad as she thinks. It might, in fact, be just what she needs to pull herself out of the airless anxiety and into a place where her heart can breathe.
This is such a great story and a beautiful book, brought together with love by the team of Adam P. Knave, Valentine Barker, and Frank Cvetkovic. —Jenny Blenk, Associate Editor
The Airless Year will arrive in paperback beginning June 22, 2022.
---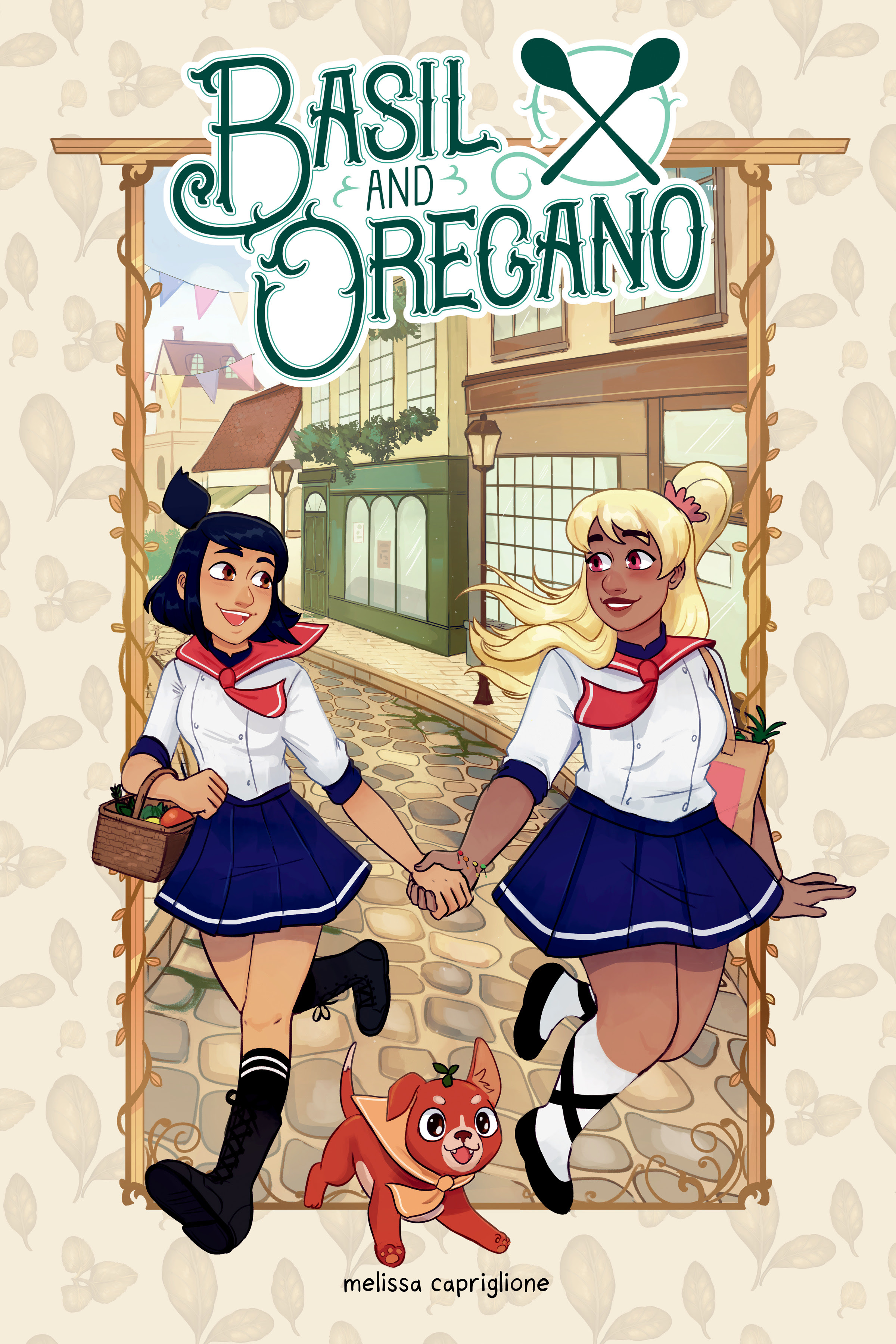 Basil and Oregano
From artist Melissa Capriglone (SPIRIT, PiNKHEARTS, Falconhyrste) comes a new graphic novel, Basil and Oregano: a magical queer tale full of cooking and competition.
Porta Bella Magiculinary Academy is the finest school for the art of cooking with magic, and Basil Eyres is determined to be the top student. On the first day of Basil's senior year, Arabella Oregano, the daughter of a renowned chef, joins the academy for her senior year as well.
The two are instantly smitten with each other, but Basil senses there's something Arabella is hiding from her. Still, the two work together to stand out from the class as the end-of-year culinary festival approaches. But when Arabella's secret is revealed, Basil is faced with the hardest decision of her life, which has the potential to throw her future aspirations in jeopardy.
Basil and Oregano will be available at comic shops and bookstores in September 2022, and is available for pre-order now.
Praise for Falconhyrste: "It's a delightful, queer-inclusive fantasy comic with interesting characters and plenty of mystery…" —The Comics Beat
"It's fun and mysterious, beautiful and youth-accessible, magical and thoughtful in its representation. And it's completely addicting. Definitely check it out if you're the magical boarding school type, and honestly, even if you're not." –Comic Book Yeti
---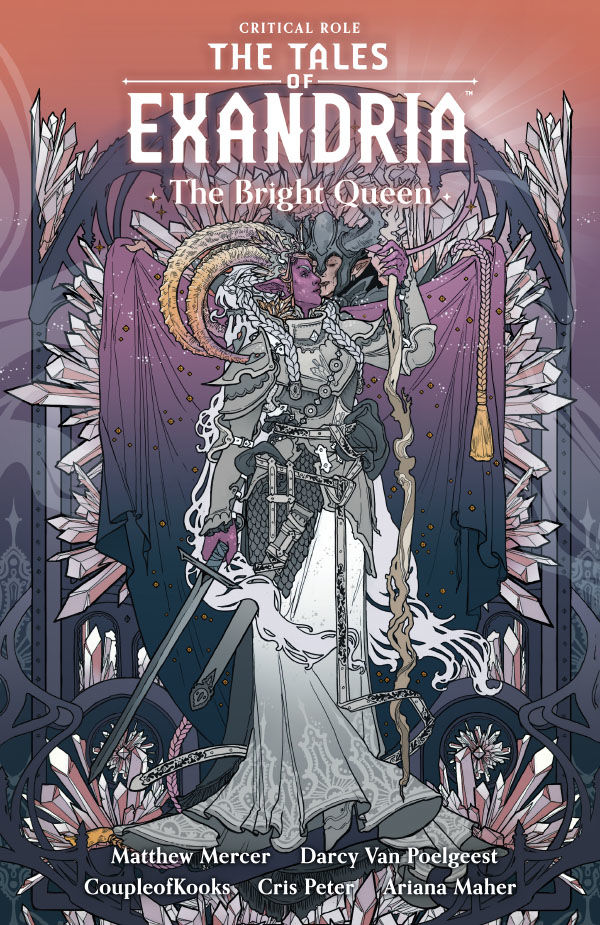 Critical Role: The Tales of Exandria Volume 1–The Bright Queen
A timeless, yet terrifying love story, Critical Role: The Tales of Exandria—The Bright Queen follows the titular character Leylas Kryn and her eternal lover, Quana, as they pursue their ultimate goal: assembling the Luxon.
The pair have endured through multiple reincarnations and complications, but a new chapter of their lives begins with the appearance of another Luxon piece and the birth of their child, Caelestis. As Quana takes to motherhood like a moth to the flame, something dark lurks in the back of Leylas' mind.
The coming storm will test their bond both as lovers and as mothers in unimaginably frightening ways.
Brilliantly brought to life by Darcy Van Poelgeest, fan-favorite artist CoupleofKooks, colorist Cris Peter, and letterer Ariana Maher, The Bright Queen is a tale full of love, hope, and strength shining like a beacon through the darkest times. –Rachel Roberts, Editor
Critical Role: The Tales of Exandria—The Bright Queen collects the four-issue miniseries in one volume, arriving later this year. Cover art for issue #1 and this collected volume by Helen Mask.
---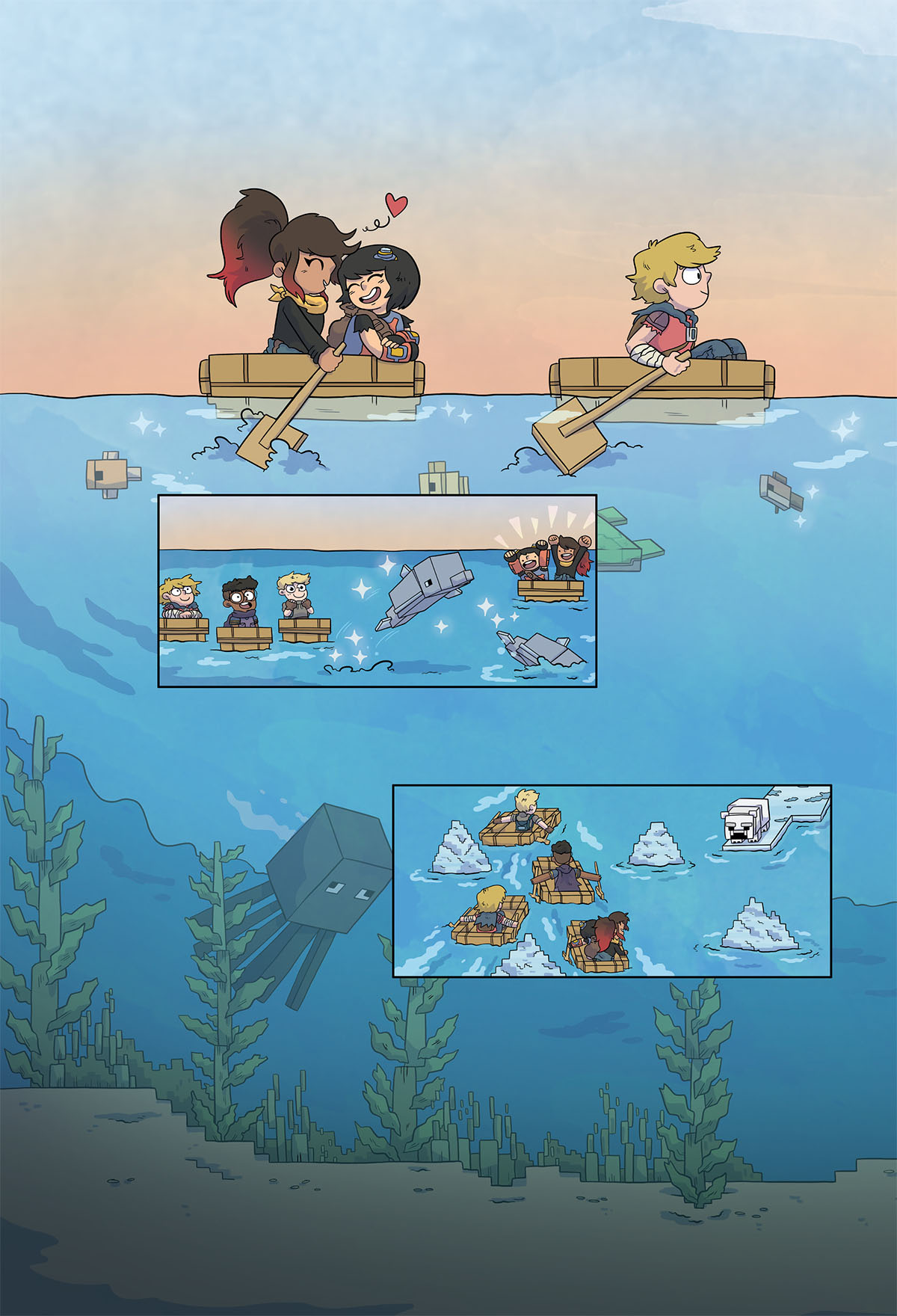 Minecraft Volume 2
The first official Minecraft comics, by Sfé R. Monster and Sarah Graley with John J. Hill and Stef Prurenins, are a fun read for Minecraft fans and anyone age 8 and up.
Tyler is an everyday kid whose life changes when his family has to move from the town he's always known. Thankfully, Tyler has a strong group of friends forever linked in the world of Minecraft!
Tyler, along with his friends Evan, Candace, Tobi, and Grace, have been going on countless adventures together across the expanses of the Overworld.
In Minecraft Volume 2, the end of summer brings new challenges for Evan when a bully chooses to target him. Evan tries to hide this from his friends, but when he and the gang find themselves in a similar situation in the Ever Realm, Evan can't keep quiet any more.
As they find themselves assaulted by pirates, and then by an even bigger threat, the players realize they must learn to rely on each other to face adversity.
Now available and coming soon:

Minecraft Volume 1 TPB
Minecraft Volume 2 TPB
Minecraft Volume 3 TPB
Minecraft Boxed Set
---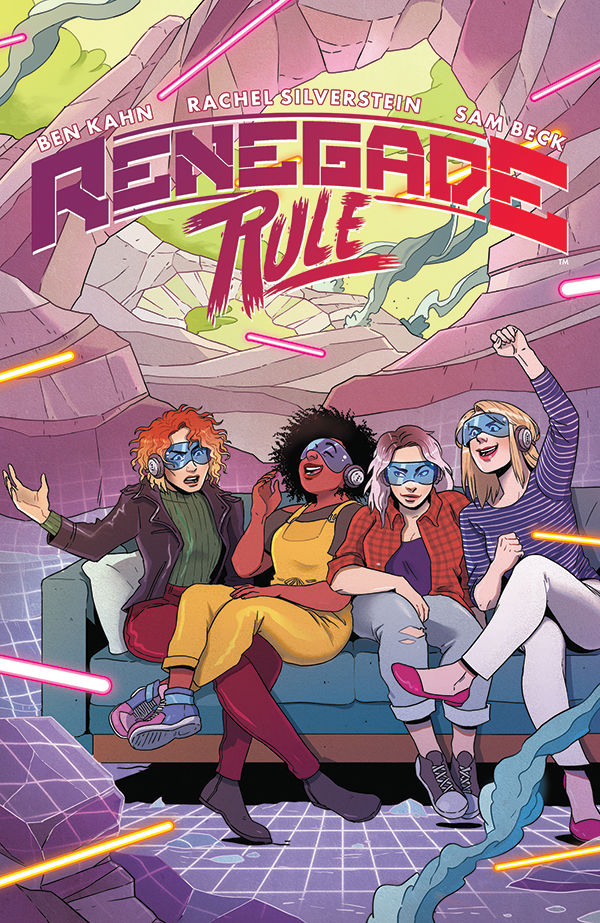 Renegade Rule

From Ignatz-nominated writer Ben Kahn, debut author Rachel Silverstein, and artist Sam Beck, Renegade Rule is an original graphic novel, available now.
Queer friendship and awkward hilarity are front and center in this awesome book about a VR sports team trying to beat the odds at a national competition.
The squad of sapphic sports pros are facing more than just a slew of other top-tier players; They're contending with personal problems, not-so-secret crushes, and cracks in their friendship that could tear apart their team at any moment. How will they hold it together? With humor, audacity, and a whole lotta love.
Writers Ben Kahn and Rachel Silverstein and artist Sam Beck have created a perfect story blend, and the result is unadulterated queer joy. –Jenny Blenk, Associate Editor

Nominated for a GLAAD Media Award!
Watch Now: Check out the recording of our live stream panel with the Renegade Rule team, now on YouTube!
---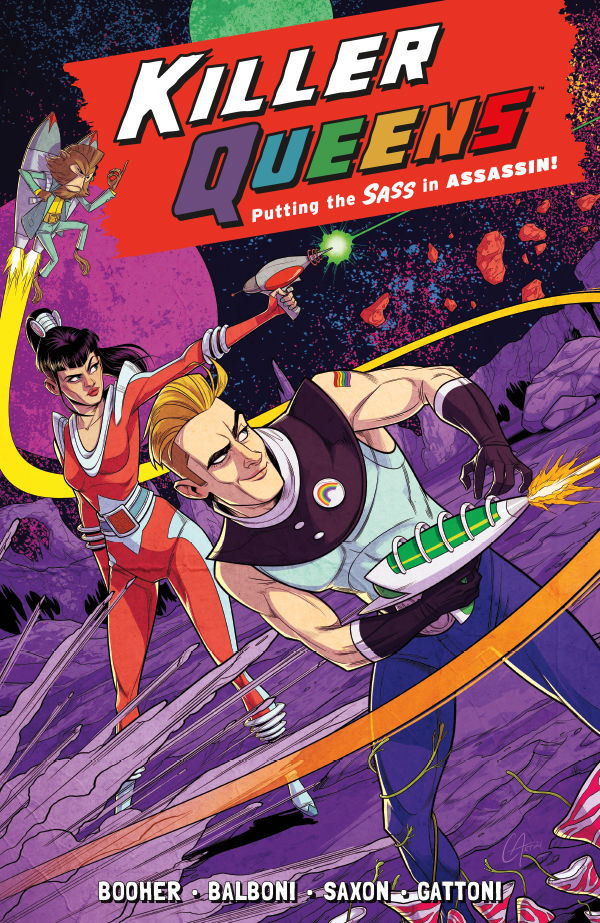 Killer Queens

Loud, proud, and a little spicy, the Killer Queens never apologize or hide from who they are, not even when adorable hench-otters are shooting lasers at them!
–Konner Knudsen, Associate Editor
They put the SASS in ASSASSIN!
Meet Max and Alex. Reformed intergalactic assassins for hire. On the run. Also super gay. Their former boss–a fluffy monkey with a jetpack–is hot on their tail to take back his stolen ship. They take a mission from Alex's old flame: your standard no-kill, casualty-free kidnapping recovery from a nearby moon. Only complication? Half the moon is ruled by a fascist dictator hostile to foreigners. They're the Killer Queens, so what could possibly go wrong?
Join writer David M. Boher (Canto, Alien Bounty Hunter) and an all-LGBTQ creative team including Claudia Balboni, Harry Saxon, and Lucas Gattoni as they tackle issues of love, xenophobia, and the terror of fascist dictatorships in this hilarious sci-fi epic.
Killer Queens is now collected in a paperback volume, available wherever comics and books are sold.
Nominated for a GLAAD Media Award!
---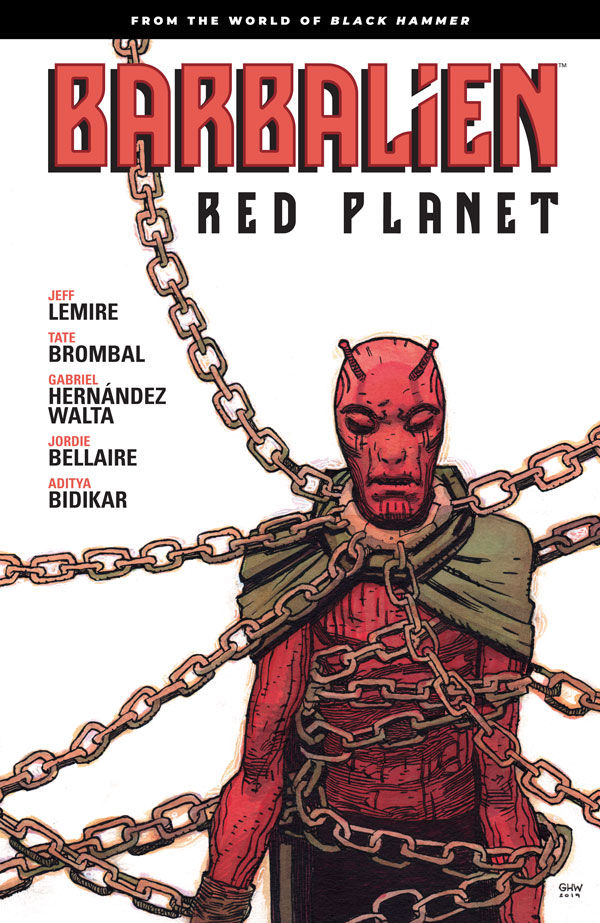 Barbalien: Red Planet – From the World of Black Hammer
This intense, poignant Black Hammer miniseries explores the tumultuous backstory of the character Barbalien, co-created by Jeff Lemire and Dean Ormston.

Barbalien: Red Planet is a story about identity, survival, and the choices we make. This miniseries is by the LGBTQ+ team of writer Tate Brombal, artist Gabriel Hernández Walta, colorist Jordie Bellaire, and letterer Aditya Bidikar. Each issue also features a variant cover by LGBTQ+ artists including Kevin Wada, Nick Robles, Naomi Franquiz, and Aud Koch.
The story is set during the height of the HIV-AIDS crisis. Mark Markz has found a comfortable life on Earth as both a decorated police officer and as the beloved superhero, Barbalien. But when Mark is suddenly thrust onto the frontlines of the AIDS crisis, his role as a cop raises doubts, and he must now reckon with his own closeted sexuality. Growing tensions make balancing his disparate identities seem impossible—especially when a Martian enemy from his past hunts him on Earth to take him home, dead or alive.
Heroism, privilege, and complacency are all called into question, as Mark becomes embroiled in the activism of the time and with the man leading its charge—the handsome and headstrong Miguel.
Nominated for a GLAAD Media Award!

---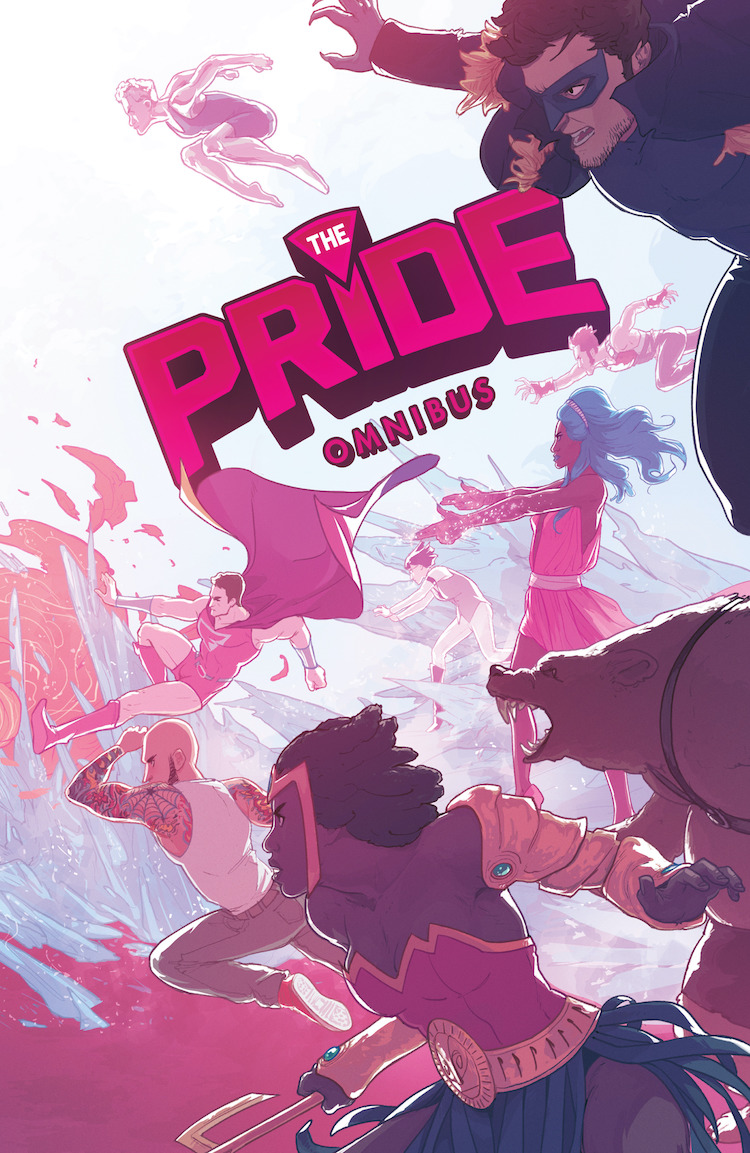 The Pride Omnibus
Part of the partnership between Dark Horse Comics and ComiXology, the ComiXology Originals series The Pride Omnibus is now available in a paperback collection for the first time. The Pride Omnibus collects The Pride Volumes 1 and 2 The Pride Adventuresa collection of stand-alone stories.
"The Pride is all about taking a group of people who've so often seen their stories only told as subtext, and making it explicitly text," says writer Joe Glass. "It's about bringing that representation bursting out of the closet of metaphor and allegory, and making them openly, proudly the heroes of the story. It's all that, plus some classic, bright, fun superhero action and melodrama that anyone can enjoy."
In The Pride, FabMan is sick of being seen as a joke. Tired of the LGBTQ+ community being seen as inferior to straight heroes, he thinks it's about damn time he did something about it. Bringing together some of the world's greatest LGBTQ+ superheroes, the Pride is to protect the world and fight prejudice, misrepresentation and injustice–not to mention a supervillain or two.
The collection includes work by many top comics artists and stories from writers Mike Garley, Sina Grace, PJ Montgomery, and many more.
Winner of the 2022 Gaming Award: Best LGBTQ+ Comic Book Moment
---
More LGBTQ+ Titles to Enjoy
There are many more titles from Dark Horse featuring LGBTQ+ themes and creators that readers can enjoy all year round.
Check out previous Pride Reading Guides here and here for additional titles and series, including Enigma: The Definitive Edition, The Legend of Korra, Husbands, Youth, Zodiac Starforce, Spell on Wheels, The Fifth Beatle, and more.