Welcome to our latest On the Radar column, where we'll look ahead at five new books coming out in the next couple of weeks. Our lead title this week comes from Norway as we bring you Helene Flood's second novel, a psychological / domestic noir novel set in an Oslo apartment building. We've also got brand new Louisiana noir with Faye Snowden's latest book, a holiday thriller set on a superyacht by Cameron Ward, and two police procedural debuts – one by Graham Bartlett and the other by John Sutherland.
Lots to digest. See which you think is best.
The Lover by Helene Flood
Rikke's carefully-constructed double life comes apart when her lover is found dead, in this second novel by Norwegian author Helene Flood, which follows last year's Therapist. She suddenly faces the unthinkable horror of revealing her affair with Jorgen, her neighbor. As the murder investigation closes in on their building, how long can Rikke conceal the affair from her other neighbors, her husband and her teenage daughter? But before she can summon the courage to confess, Rikke is struck by a chilling thought. Jorgen can only have been killed by someone living in their small apartment building. The Lover is out on 23 June
Order now on Amazon or Bookshop.org
A Killing Rain by Faye Snowden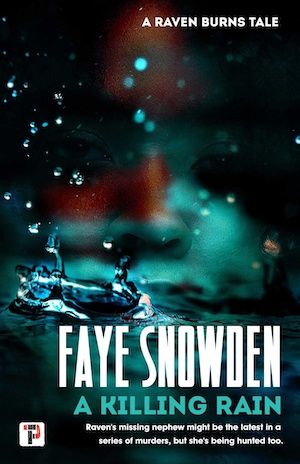 If you like your crime reads dark, Southern and gothic, then 21 June is a date to remember. It's when A Killing Rain by Faye Snowden is released, sequel to A Killing Fire. Former homicide detective Raven Burns has moved back to Byrd's Landing, Louisiana for a new start. But her old life catches up with Raven when her nephew is kidnapped by a ruthless serial killer, and her foster brother becomes the main suspect. And if that's not enough, she has two men on her tail. One wants to save her, while the second is determined to make her pay for past sins.
Order now on Amazon or Bookshop.org
A Stranger On Board by Cameron Ward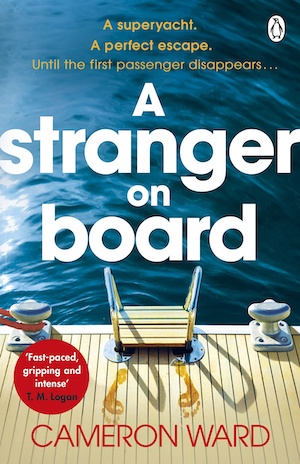 If you're planning a summer break on a superyacht, then maybe give A Stranger on Board by Cameron Ward a miss. If, like the rest of us, you have something a little less glitzy planned, it could well make the perfect poolside read. Ex-marine Sarah French joins a luxury superyacht as on-board security, excited to get her life – and career – back on an even keel. It all sounds idyllic, but as they head into open water, there is a growing tension amid the crew. And then someone goes missing and Sarah realises that there's a killer on board… Yikes! Out 23 June.
Order now on Amazon or Bookshop.org
Bad for Good by Graham Bartlett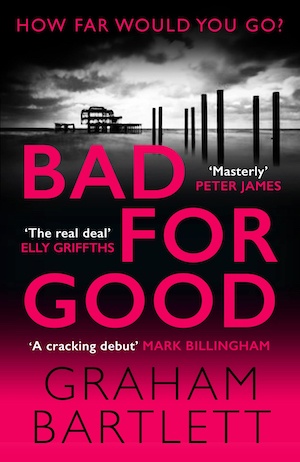 Missing the footie? We've got your back! The murder of a young player tipped for great things, who also happens to be the son of Brighton's highest-ranking police officer, means Detective Superintendent Jo Howe has a complicated and sensitive case on her hands in Graham Bartlett's crime debut, Bad for Good, out on 23 June. To make matters worse, there's a blackmailer on the loose and tempers are beginning to fray. Can Howe find the back of the net before vigilantes take over the city? Prepare for a darkly engrossing read…
Order now on Amazon or Bookshop.org
The Siege by John Sutherland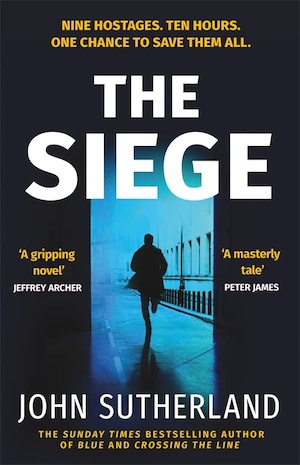 Debut author John Sutherland hits the ground running with The Siege, a thriller that comes out on 23 June. Sutherland is a former hostage negotiator and police officer and he uses his inside knowledge to the full here. Over the course of one night, the story is told from three different viewpoints – that of a female bystander who gets caught up in a terrorist incident, a hostage negotiator with the police and a far-right extremist intent on avenging the imprisonment of his beloved leader – at any cost. With the lives of nine people on the line, there is plenty at stake.
Order now on Amazon or Bookshop.org
Click here to read about last week's new books.