We love crime in translation On this site, so this week our excitement begins with the arrival of a Japanese classic that has been translated into English by Pushkin Vertigo. Death on Gokumon Island is by the great Seishi Yokomizo (1902-81) who took the Golden Age of crime fiction of the West and created a Japanese version of it that was even purer and more codified than what had inspired him. Death on Gokumon Island is a great example.
Speaking of the Golden Age, we've two contemporary books set in that era – Tomboy in the 1930s and Harlem Sunrise in the Roaring 20s. Equally, you can slip away to rural Australia with Dirt Town or dive into the inimitable gonzo noir of Paul D Brazill with the British author's latest anthology.
Death on Gokumon Island by Seishi Yokomizo
Meet Kosuke Kindaichi, scruffy detective and solver of impossible crimes, who arrives on the remote Gokumon Island bearing tragic news. The son of one of the island's most important families has died on a troop transport ship bringing him home after the World War II, and his final words send a chilling warning to his three stepsisters. They're in danger and Kindaichi steps up as both contempt and protector. Then the murders begin… Based loosely on Agatha Christie's And Then There Were None, the Japanese classic Death on Gokumon Island by Seishi Yokomizo, originally published in 1971, is out in translation on 30 June.
Order now on Amazon or Bookshop.org
Tomboy by Shelley Blanton-Stroud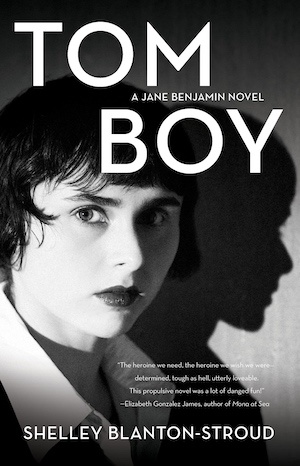 It's almost two years since Shelley Blanton-Stroud introduced us to Jane Hopper in Copy Boy, set in Depression era America. Jane is back on Kindle on 28 June in Tomboy, and as Jane Benjamin she is ready to move her journalistic career along a notch or two. Determined to become the San Francisco Prospect's first female gossip columnist and make enough money to care for her toddler sister Elsie, she finagles her way to cover the women's championship at Wimbledon — until a suspicious death throws all of her carefully constructed plans into disarray.
Order now on Amazon or Bookshop.org
Dirt Town by Hayley Scrivenor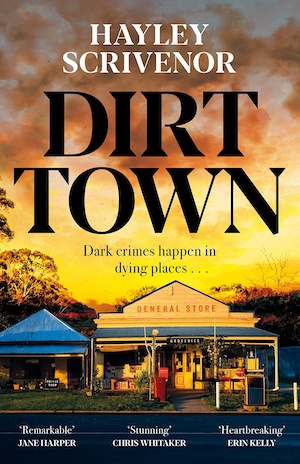 Australian author Hayley Scrivenor's debut, Dirt Town, is out 23 June and it is set in the little regional town of Durton. The tight community is torn apart when a young girl goes missing and is later found murdered. Esther's best friend Ronnie is determined to learn the truth and she enlists the help of Lewis – although Lewis knows more than he's letting on. Meanwhile, DS Sarah Michaels is on the case and, more than anyone, she knows how in a moment of weakness a person can be driven to do something they never thought possible. It's been making waves in Scrivener's home country – time to find out why.
Order now on Amazon or Bookshop.org
Harlem Sunset by Nekesa Afia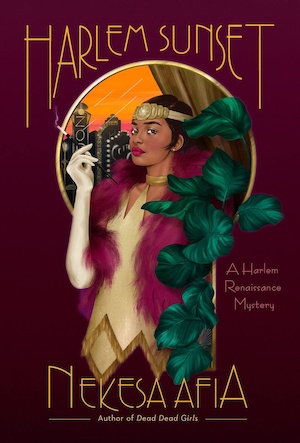 Second in the Harlem Renaissance Mystery series, Harlem Sunset by Nekesa Afia is out on 28 June and it transports us back to New York in the Roaring 20s. It is 1927, and 27-year-old Louise Lloyd has found the perfect job as the new manager of The Dove, a club owned by her close friend Rafael Moreno. It is there she meets a shadow from her past, Nora Davies, one of the girls she was kidnapped with a decade ago. A night of drinking and talking ensues with Rafael and his sister Rosa Marie. However, the following day Louise wakes up covered in blood and Nora lying dead in the middle of the dance floor. Louise and Rosa Marie are being framed – but who really did it?
Order now on Amazon or Bookshop.org
Guns of Brixton: Double Barrel by Paul D Brazill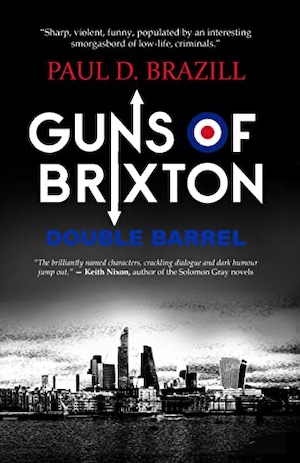 24 June is a golden day for all fans of Paul D Brazill – it's the release date for Guns of Brixton: Double Barrel, combining all new versions of the novellas Guns of Brixton and Cold London Blues into one violent and bawdy collection. A London gangster gives a couple of past-their-sell-by-date thugs a really easy job – collect a briefcase from a northern courier. Easy? You must be joking! Instead, the courier ends up dead in his lock-up, and the ageing crooks dress up in drag to rob a jeweller's shop, losing the coveted briefcase in the process. Expect plenty of dark humour in this tasty helping of Brit Grit.
Order now on Amazon
Click here to read about last week's new releases.